Raise the Barre with dance inspired workout enthusiasts nationwide
Barre class is a ballet-inspired workout, incorporating yoga, pilates, and other isometric exercises and equipment, but focusing on lower body strength and flexibility. Barre began in 1959 when a German ballet dancer used her ballet barre training, combined with rehabilitation exercises, to help her body recover from a back injury. Barre has exploded in popularity across the U.S. with more than 3.5 million members, and is CoOptions' newest network, along side of its Yoga and Cross-Training studio networks. The Barre Studio Network provides a perfect touchpoint for brands to tap this huge trend and engage one-on-one with its passionate participants.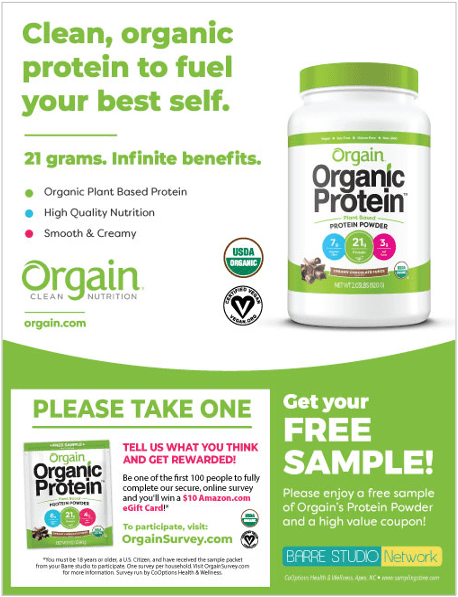 Key Demographics:
Cross-generational with core age range 18-54, millennial skew.
90%+ female with healthy lifestyle.
Mid-upscale HH Income $100K+.
Highly educated, high performers, lives authentically.
Locations/Reach:
848 studios and growing.
Studios spread throughout U.S. with heavier saturation in major DMAs and strong general fitness markets.
Up to 300,000 samples per 3-5 week executional program window (depending on brand category).
Product Sample Distribution:
Class check-in or check-0ut
Optional Life-to-shelf geo-mapping around stores
Signage & Consumer Research:
Counter card provided to each studio encouraging parents to ask for a FREE sample for their children, studios distributing samples at check-in or after classes.
Optional easel card w/dedicated consumer research with Juster Scale metrics.