Most colleges and university centers offer on-site fitness facilities for their student athletes and any/all students who want to stay fit.  CoOptions Health & Wellness has created a comprehensive network of more than 2,000 of these campus sports and fitness facilities nationwide, the ideal college touchpoint to deliver your brand to influential, health and fitness-minded students. All programs are completely customized and samples are delivered at check-in. We can also geo-map colleges in specific markets or around retailer store locations for shopper marketing activation with your key accounts.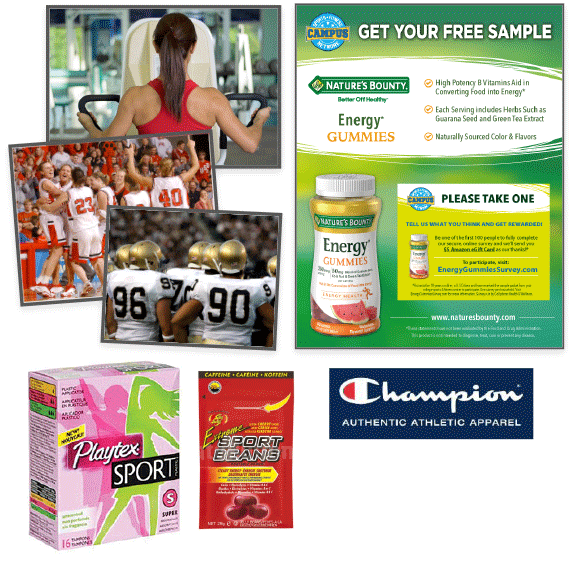 Key Demographics:
College athletes / sports team members.
Fitness-minded students 18–24 that engage in individual and team sports and recreation activities.
Locations/Reach:
2,000+ colleges segmented by type, region, size and enrollment, and NCAA division.
Up to 2,000,000 per 2 – 4 wk. promotion period (1,000,000 men and 1,000,000 women).
Geo-mapping selection of campus facilities based on client account retail locations (upon request).
Product Sample Distribution:
Check-in desk at sports / fitness facility.
Key promotional windows: Back-to-College (Aug/Sept and Jan); final exams (Apr/May and Dec).
Signage & Consumer Research Included:
Counter card encouraging members to try your sample, provided to each center.
Dedicated research with Juster Scale metrics.