Forge relationships with FITNESS ENTHUSIASTS at CrossFit affiliates nationwide.

CrossFit is an immensely popular fitness regimen developed by Founder and CEO, Greg Glassman, with more than 13,000 affiliates worldwide. But CrossFit is so much more—it's a workout "community" of people sharing a common set of goals. CrossFit harnesses the natural camaraderie, competition and fun of sport or game, yielding an intensity unmatched by other fitness programs.
CoOptions' developed its CrossFit Sampling Network of opted-in affiliates nationwide to provide a conduit for brands to tap this powerful on-trend community of empowered fitness enthusiasts.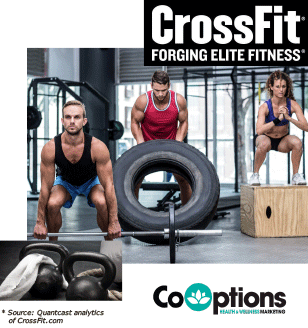 Demographics:*
Fitness enthusiasts 18 -55, heavily skewed 25 – 34.
Evenly split male / female.
Upscale, more than half with family HH income of more than $150,000.
Locations/Reach:
6,100 U.S. affiliates.
Average of 200 members / affiliate.
Product Sample Distribution:
Hand-distributed at check-in or after session.
Signage & Consumer Research Included:
Counter card encouraging members to try your sample, provided to each affiliate.
Dedicated research with Juster Scale metrics.