Drive trial with FITNESS & HEALTHY LIFESTYLE enthusiasts at LIFE TIME destinations and events across the U.S.

Get your brand into the hands of affluent, active lifestyle, and endurance sports-minded men and women inside Life Time Destinations, at Life Time Athletic Events, and through Life Time's endurance sports network. The most authentic way to connect with an engaged audience is where and when it matters most to them. For brands building relationships with healthy lifestyle enthusiasts, Life Time provides premier locations and resources for genuine introductions. Healthy food, beverage, beauty, body and active lifestyle brands provide perfect pairings for our upscale, affluent Healthy Way of Life destinations.
Product sampling in Life Time locker rooms is our recommended means of distributing samples to male and/or female members in a luxury atmosphere, just prior to or following their club activities. Ideal for HBA products that can be used in spas, showers, and locker rooms, or as members exit into the pool areas, or food products that focus on recovery or energy boost (food samples should be under 3 oz.).
Life Time champions a healthy and happy life for its more than 1.8 million members across 135 destinations in 38 major markets in the U.S. and Canada. Life Time destinations offer distinctive programs and services including: personal and TEAM small group training, body sculpting, weight loss programming, Pilates, studio, cycle, and yoga classes, climbing, tennis, racquetball and squash, swim programming and Ultimate Hoops basketball.
As the nation's only Healthy Way of Life brand, Life Time delivers an unmatched athletic resort experience and provides a comprehensive healthy living, healthy aging and healthy entertainment experience that goes well beyond fitness to encompass the entire spectrum of daily life for individuals, couples and families of all ages. Full-service LifeSpas, LifeCafe, LifeClinic Chiropractic offices, and children's day care are also located in clubs.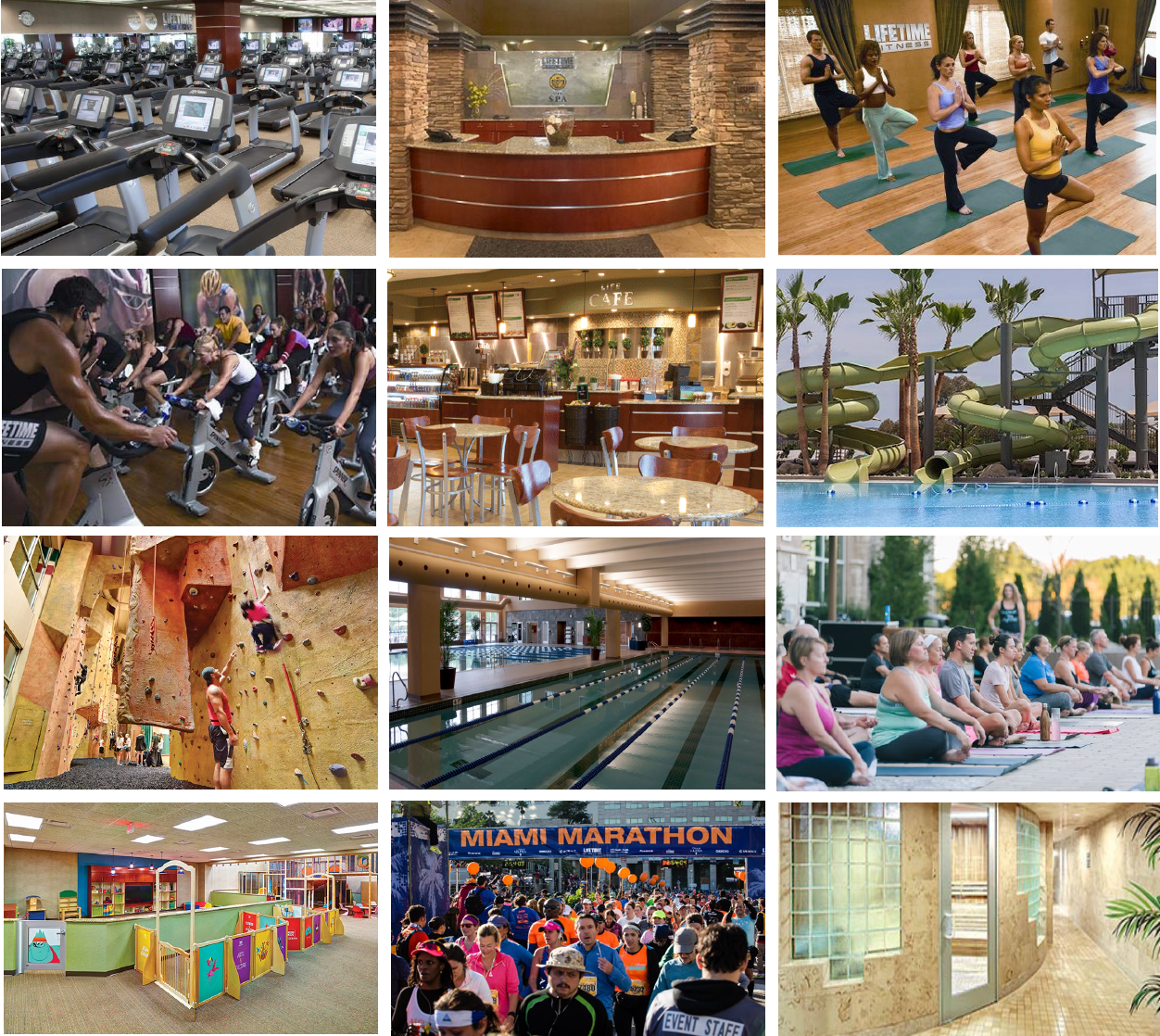 Demographics:
Fitness enthusiasts 18 -55, heavily skewed 25 – 34.
Evenly split male / female
Upscale with HH income of more than $150,000
Locations/Reach:
135 locations in 38 markets nationally (additional clubs opening each quarter)
8 million members / 250,000 daily visits / 90 million annual visits*
Product Sample Distribution:
Men's and Women's locker rooms / spas
Other distribution opportunities custom quoted
Custom signage accompanying samples
Dedicated opt-in consumer research
Signage & Consumer Research Included:
Counter card encouraging members to try your sample
Dedicated research with Juster Scale metrics.
In-Club Life Time TV Media:
:15 second spot (Static or animated, no sound) aired in continuous 9 minute loop, approx. 160 times per day per screen (2 – 4 screens per club) — 5.7 million impressions
$40,000 media package, discounted under 1MM samples (free 1MM+)
HOW IT WORKS:
Life Time supports turnkey product sampling, including product shipments to each participating location through our centralized distribution center.
Samples are distributed in locker room baskets and bins w/custom brand tent cards or header card.
LT staff manages your sampling program and gathers feedback and images for our program recap.
Opt-in consumer research invitation (and optional coupons) are delivered with samples via tear pads or take-one sheets (overwrapped or card-tipped samples with printed communications preferred to keep together).